Qualys CloudView 2.0.0 and Cloud Connector 1.3 Release Updates
We are happy to announce the early preview of Qualys CloudView 2.0.0 and Connectors 1.3, scheduled for upgrade in mid-February of 2023. With the early preview, you will find updates to the product's functionalities and features and will be able to identify use cases that can benefit from the release updates. Please refer to the Qualys Status page to know when we will be upgrading the platform you are currently using, so you can stay on top of the release dates.
PDF and CSV Report Enhancements
Unevaluated controls are now displayed correctly in PDF and CSV reports generated by CloudView APIs. This enhancement will improve the accuracy of the compliance score and enable you to focus on the actual controls being evaluated.
Changes to the PDF format
Not all controls get evaluated due to the unavailability of resources in your respective cloud accounts. Controls that are not evaluated will be marked as "N/A". They were previously marked as "Pass".

This change has also been made to the pie chart of Policy Compliance by Controls in your platform.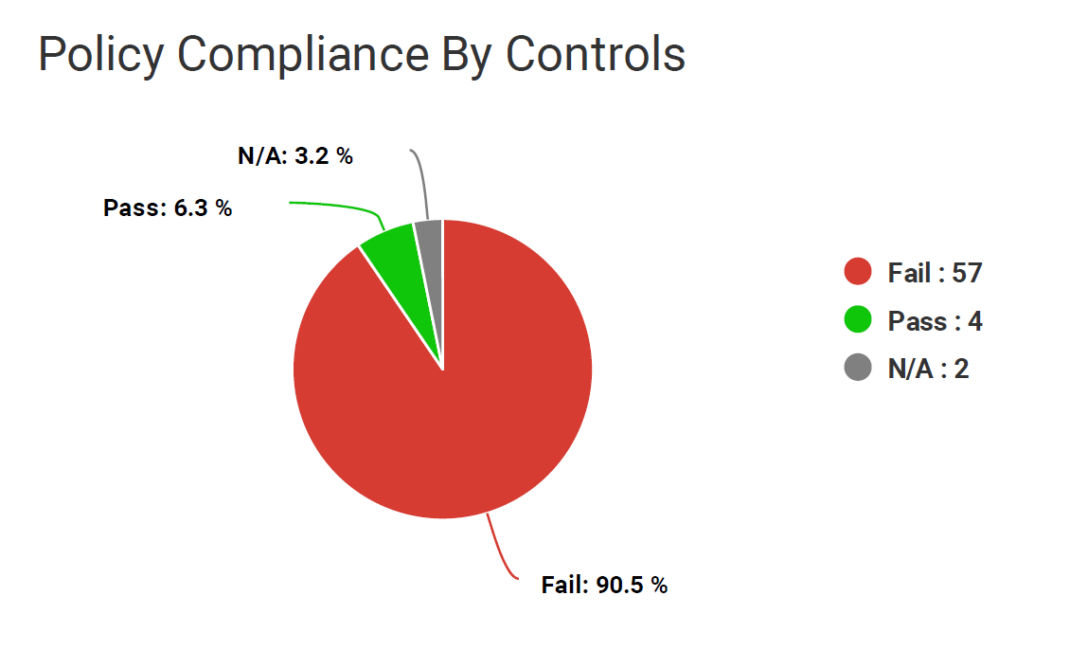 Changes to the CSV format
CSV reports generated by CloudView now include fields for Control Summary, Resource Summary, and Account Summary. Having more data points at your disposal means you can analyze more information in your CVS reports, such as the Compliance Score, the summary of evaluated controls and resources, and detailed information about all the evaluations of your remediation actions.
Test Connection Authentication is a Must for Cloud Connectors
To prevent the use of stale connectors, our cloud connector workflow requires connectors to be validated before authentication. Test connections ensure that your connector settings and communication with Qualys are accurate, valid, and available.
What more? Any time there is a change in the role or connector information, you can validate your connection.
Stay tuned for more details on these and other new features soon to appear in our blog.
Please take these new features for a test drive and let us know what you think. If you encounter any problems in your CloudView account, please open a support ticket by selecting Help > Contact Support while logged into the platform. Feel free to post a question on the Qualys Community as well.
---