QualysGuard 7.10 New Features
Last updated on: June 3, 2020
QualysGuard 7.10 will be released in production in the coming weeks and includes enhancements to QualysGuard Cloud Platform, Vulnerability Management (VM), Policy Compliance (PC) and API.
New QualysGuard Express Lite
The new service offering QualysGuard Express Lite for SMBs is launched with this release.
QualysGuard Cloud Platform Enhancements
Redesigned Application Picker: In this release, the application picker has been redesigned with a new look & feel to clearly show to users the various applications available in their subscriptions.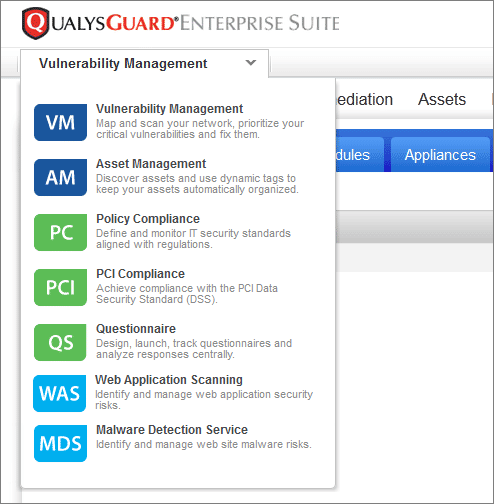 New Virtual Scanner Wizard: This release introduces a new virtual scanner wizard to simplify the steps for selecting the right image for your virtualization platform, downloading the image and configuring your scanner.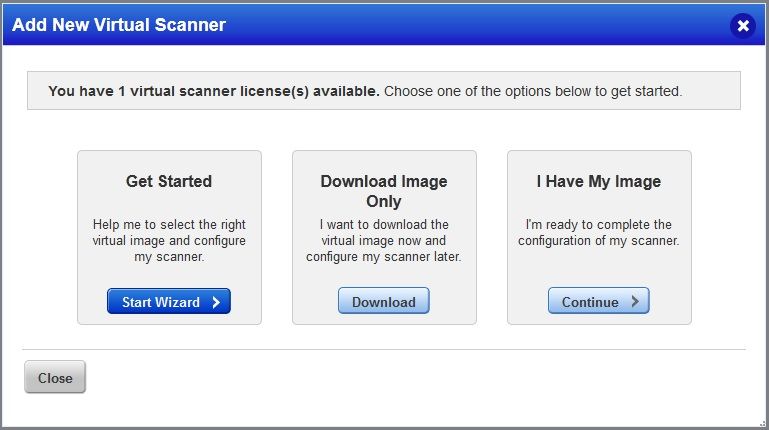 New Virtual Scanner Image for VMware ESX/ESXi v3.5: In this release we are providing a new virtual scanner appliance image compatible with the former version 3.5 of VMware ESX/ESXi. For information, earlier versions of VMware ESX/ESXi are already supported.
QualysGuard VM Enhancements
New Resolved date for Remediation Tickets: As hosts are scanned, QualysGuard automatically updates remediation tickets and closes tickets for vulnerabilities that are verified fixed. If you don't run scans soon after fixing vulnerabilities then your tickets are not closed right away. QualysGuard 7.10 provides a new "Resolved" date that gives you a way to track which vulnerabilities have been processed. It allows you to measure the time when a ticket is created and the time when an action to resolve the vulnerability is performed. The resolving action may be to deploy a fix and mark the ticket Resolved or to ignore the vulnerability in the context of a risk acceptance process.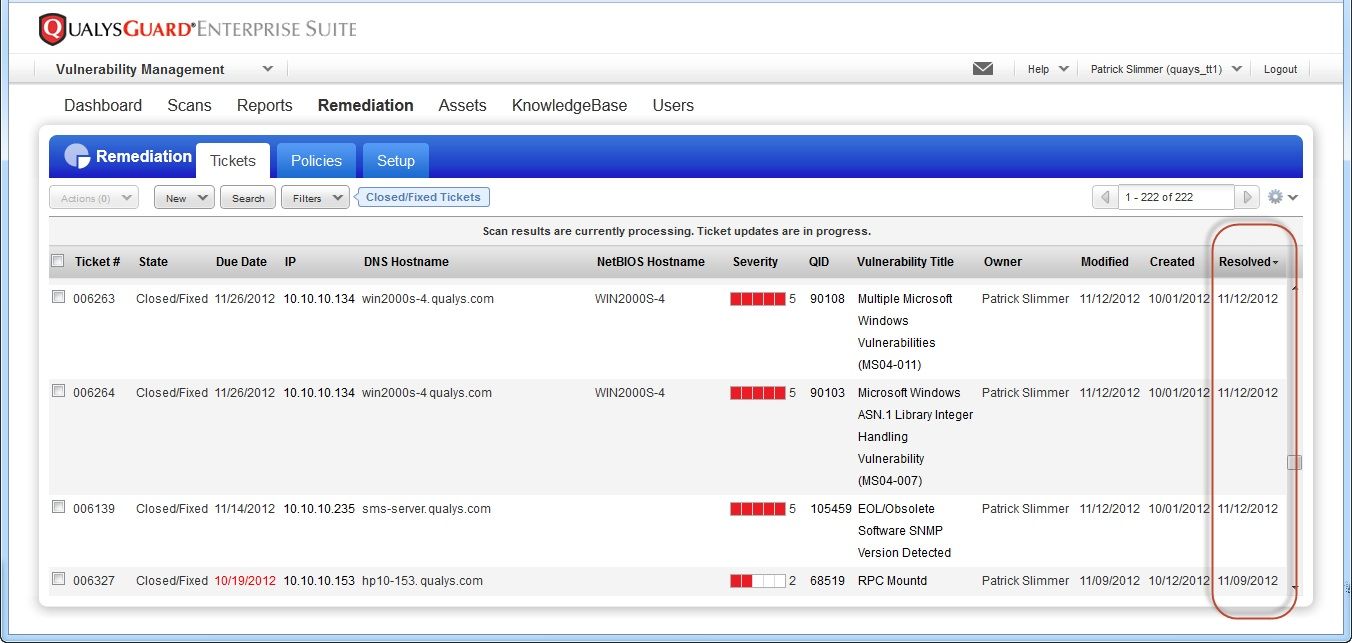 QualysGuard PC Enhancements
In QualysGuard 7.10, Policy Compliance includes new content in the control Knowledgebase to provide support of Application Server Technologies as detailed below. These new controls can now be used by customers to build Application Server Technology policies.
Support of Apache 2.2 Added: With QualysGuard PC, users can now audit Apache 2.2 configuration running on IBM HTTP Server and VMWare vFabric WebServer  5.2. The technology will be released with a set of controls supporting the CIS Apache HTTP Server 2.2.x Benchmark v3.2.0.
Support of Microsoft Internet Information Services (IIS) 6.0, 7.x Added: With QualysGuard PC, users can now audit Microsoft Internet Information System 6.x and 7.x configurations. The technology will be released with a set of controls supporting the CIS Microsoft IIS 7 Benchmark v1.3.0 and CIS IIS 5.0/6.0 Benchmark v1.0.0
Support of IBM WebSphere Application Server 7.0 Added: With QualysGuard PC, users can now audit IBM WebSphere Application Server 7.0 running on Unix. The technology will be released with a set of security controls.
Policy Editor: The new Policy Editor is no longer Beta. It is now the official editor for managing your policies. The old policy editor is still available for a limited time. Introduced with QualysGuard 7.9, the new policy editor is designed to be user-friendly with intuitive workflows and scalable for large policies, it includes a number of new functionalities:
Quick overview pane with the number of controls, the number of sections, the technologies associated, the applied groups, and more
Drag and drop of sections and controls
Quick search to directly access the control configuration page
Reference field to map a Qualys controls (CID) to authority documents or internal policies
New search control window only shows controls that are relevant to the policy
Quick navigation between controls using the arrow keys
QualysGuard API Enhancements: New Asset Management and Asset Tagging API
A new API to manage assets and asset tags, including dynamic tags, in the Asset Management module is now available in production. Details are in the QualysGuard Asset Management and Tagging API User Guide.
Full release notes will be available to customers from within the Resources section of your QualysGuard account.
Release Schedule
For details about the release dates and to subscribe to release notifications by email, please see the following: